The
TikZ

and PGF Packages
Manual for version 3.1.10
Graph Drawing
\(\newcommand{\footnotename}{footnote}\) \(\def \LWRfootnote {1}\) \(\newcommand {\footnote }[2][\LWRfootnote ]{{}^{\mathrm {#1}}}\) \(\newcommand {\footnotemark }[1][\LWRfootnote ]{{}^{\mathrm {#1}}}\) \(\let \LWRorighspace \hspace \) \(\renewcommand {\hspace }{\ifstar \LWRorighspace \LWRorighspace }\) \(\newcommand {\mathnormal }[1]{{#1}}\) \(\newcommand \ensuremath [1]{#1}\) \(\newcommand {\LWRframebox }[2][]{\fbox {#2}} \newcommand {\framebox }[1][]{\LWRframebox } \) \(\newcommand {\setlength }[2]{}\) \(\newcommand {\addtolength }[2]{}\) \(\newcommand {\setcounter }[2]{}\) \(\newcommand {\addtocounter }[2]{}\) \(\newcommand {\arabic }[1]{}\) \(\newcommand {\number }[1]{}\) \(\newcommand {\noalign }[1]{\text {#1}\notag \\}\) \(\newcommand {\cline }[1]{}\) \(\newcommand {\directlua }[1]{\text {(directlua)}}\) \(\newcommand {\luatexdirectlua }[1]{\text {(directlua)}}\) \(\newcommand {\protect }{}\) \(\def \LWRabsorbnumber #1 {}\) \(\def \LWRabsorbquotenumber "#1 {}\) \(\newcommand {\LWRabsorboption }[1][]{}\) \(\newcommand {\LWRabsorbtwooptions }[1][]{\LWRabsorboption }\) \(\def \mathchar {\ifnextchar "\LWRabsorbquotenumber \LWRabsorbnumber }\) \(\def \mathcode #1={\mathchar }\) \(\let \delcode \mathcode \) \(\let \delimiter \mathchar \) \(\def \oe {\unicode {x0153}}\) \(\def \OE {\unicode {x0152}}\) \(\def \ae {\unicode {x00E6}}\) \(\def \AE {\unicode {x00C6}}\) \(\def \aa {\unicode {x00E5}}\) \(\def \AA {\unicode {x00C5}}\) \(\def \o {\unicode {x00F8}}\) \(\def \O {\unicode {x00D8}}\) \(\def \l {\unicode {x0142}}\) \(\def \L {\unicode {x0141}}\) \(\def \ss {\unicode {x00DF}}\) \(\def \SS {\unicode {x1E9E}}\) \(\def \dag {\unicode {x2020}}\) \(\def \ddag {\unicode {x2021}}\) \(\def \P {\unicode {x00B6}}\) \(\def \copyright {\unicode {x00A9}}\) \(\def \pounds {\unicode {x00A3}}\) \(\let \LWRref \ref \) \(\renewcommand {\ref }{\ifstar \LWRref \LWRref }\) \( \newcommand {\multicolumn }[3]{#3}\) \(\require {textcomp}\) \( \newcommand {\meta }[1]{\langle \textit {#1}\rangle } \) \(\newcommand {\intertext }[1]{\text {#1}\notag \\}\) \(\let \Hat \hat \) \(\let \Check \check \) \(\let \Tilde \tilde \) \(\let \Acute \acute \) \(\let \Grave \grave \) \(\let \Dot \dot \) \(\let \Ddot \ddot \) \(\let \Breve \breve \) \(\let \Bar \bar \) \(\let \Vec \vec \)
32

Graph Drawing Algorithms: Force-Based Methods

by Till Tantau and Jannis Pohlmann
32.1

Controlling and Configuring Force-Based Algorithms¶
All force-based algorithms are based on a general pattern which we detail in the following. Numerous options can be used to influence the behavior of this general pattern; more specific options that apply only to individual algorithms are explained along with these algorithms.
The vertices are initially laid out in a random configuration. Then the configuration is annealed to find a configuration of minimal energy. To avoid getting stuck in a local minimum or at a saddle point, random forces are added. All of this makes the final layout extremely susceptible to changes in the random numbers. To achieve a certain stability of the results, you should fix the random seed. However, in the recent past Lua has switched its random number generator, which means that you won't get the same sequence of random numbers as in a previous version, even for identical seed. If you rely on the long-term stability of vertex placement, you should consider using a different layout. With the spring layout you have to assume that the layout will be random.
32.1.1

Start Configuration¶
Currently, the start configuration for force-based algorithms is a random distribution of the vertices. You can influence it by changing the random seed: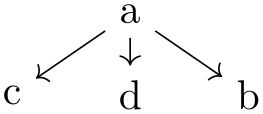 Other methods, like a planar preembedding, are not implemented currently.
32.1.2

The Iterative Process and Cooling¶
32.1.3

Forces and Their Effects: Springs¶
The most important parameter of springs is their "natural length", which can be configured using the general-purpose node distance parameter. It is the "equilibrium length" of a spring between two nodes in the graph. When an edge has this length, no forces will "push" or "pull" along the edge.
The following examples shows how a simple graph can be scaled by changing the node distance: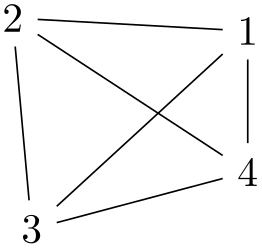 32.1.4

Forces and Their Effects: Electrical Repulsion¶
32.1.5

Coarsening¶
32.2

Spring Layouts¶
32.3

Spring Electrical Layouts¶