The
TikZ

and PGF Packages
Manual for version 3.1.10
Data Visualization
\(\newcommand{\footnotename}{footnote}\) \(\def \LWRfootnote {1}\) \(\newcommand {\footnote }[2][\LWRfootnote ]{{}^{\mathrm {#1}}}\) \(\newcommand {\footnotemark }[1][\LWRfootnote ]{{}^{\mathrm {#1}}}\) \(\let \LWRorighspace \hspace \) \(\renewcommand {\hspace }{\ifstar \LWRorighspace \LWRorighspace }\) \(\newcommand {\mathnormal }[1]{{#1}}\) \(\newcommand \ensuremath [1]{#1}\) \(\newcommand {\LWRframebox }[2][]{\fbox {#2}} \newcommand {\framebox }[1][]{\LWRframebox } \) \(\newcommand {\setlength }[2]{}\) \(\newcommand {\addtolength }[2]{}\) \(\newcommand {\setcounter }[2]{}\) \(\newcommand {\addtocounter }[2]{}\) \(\newcommand {\arabic }[1]{}\) \(\newcommand {\number }[1]{}\) \(\newcommand {\noalign }[1]{\text {#1}\notag \\}\) \(\newcommand {\cline }[1]{}\) \(\newcommand {\directlua }[1]{\text {(directlua)}}\) \(\newcommand {\luatexdirectlua }[1]{\text {(directlua)}}\) \(\newcommand {\protect }{}\) \(\def \LWRabsorbnumber #1 {}\) \(\def \LWRabsorbquotenumber "#1 {}\) \(\newcommand {\LWRabsorboption }[1][]{}\) \(\newcommand {\LWRabsorbtwooptions }[1][]{\LWRabsorboption }\) \(\def \mathchar {\ifnextchar "\LWRabsorbquotenumber \LWRabsorbnumber }\) \(\def \mathcode #1={\mathchar }\) \(\let \delcode \mathcode \) \(\let \delimiter \mathchar \) \(\def \oe {\unicode {x0153}}\) \(\def \OE {\unicode {x0152}}\) \(\def \ae {\unicode {x00E6}}\) \(\def \AE {\unicode {x00C6}}\) \(\def \aa {\unicode {x00E5}}\) \(\def \AA {\unicode {x00C5}}\) \(\def \o {\unicode {x00F8}}\) \(\def \O {\unicode {x00D8}}\) \(\def \l {\unicode {x0142}}\) \(\def \L {\unicode {x0141}}\) \(\def \ss {\unicode {x00DF}}\) \(\def \SS {\unicode {x1E9E}}\) \(\def \dag {\unicode {x2020}}\) \(\def \ddag {\unicode {x2021}}\) \(\def \P {\unicode {x00B6}}\) \(\def \copyright {\unicode {x00A9}}\) \(\def \pounds {\unicode {x00A3}}\) \(\let \LWRref \ref \) \(\renewcommand {\ref }{\ifstar \LWRref \LWRref }\) \( \newcommand {\multicolumn }[3]{#3}\) \(\require {textcomp}\) \( \newcommand {\meta }[1]{\langle \textit {#1}\rangle } \) \(\newcommand {\intertext }[1]{\text {#1}\notag \\}\) \(\let \Hat \hat \) \(\let \Check \check \) \(\let \Tilde \tilde \) \(\let \Acute \acute \) \(\let \Grave \grave \) \(\let \Dot \dot \) \(\let \Ddot \ddot \) \(\let \Breve \breve \) \(\let \Bar \bar \) \(\let \Vec \vec \)
83

Visualizers
83.1

Overview¶
In a data visualization a long stream of data points is visualized using visualizers. Recall that it is the job of the axis systems as described in Section 82 to determine where data points are visualized. It is the job of the visualizers to determine how they are visualized.
The most basic and common visualizer is the line visualizer. It simply connects subsequent data points by straight lines to indicate either that the points on these lines interpolate between the real data points or the straight lines are used to indicate the order in which the data points appear. A different, more "conservative" visualizer is the scatter visualizer or mark visualizer, which just places a small mark at each data point. Such a visualizer does not imply any interpolation or ordering between the data points.
Visualizers may, however, also be more complicated. For instance, a visualizer used for a box plot could visualize a data point as a box with a median value, standard deviation, outliers, and other information; a rectangle visualizer might visualize data points as larger areas; a projection visualizer might visualize the projection of data points onto different axes; and so.
Creating a new visualizer is not quite trivial since a new pgf class needs to be implemented. Fortunately, using visualizers is much simpler: For each kind of visualizer there is a key that allows you to create such a visualizer. You can then use further keys to configure the visualizer and to connect it to the data.
In a data visualization multiple visualizers may exist at the same time. This happens in different situations:
• A data visualization may contain several independent data sets that are to be visualized. There might be a line plot, for which a line visualizer is used, and also a scatter plot, for which a scatter visualizer would be used.

In this case, for each data point only one visualizer will do anything. To achieve this, each data point has an attribute called visualizer which tells the visualizer objects whether they should "react" to the data point or not.

• A single data point might be visualized several times. For instance, a scatter visualizer might draw a mark at the data point's position on the page and a projection visualizer might draw, additionally, a mark at the projected position.
83.2

Usage¶
83.2.1

Using a Single Visualizer¶
The simplest scenario for using visualizers are data visualizations in which there is only a single data set that is visualized in one style. In this case, all that needs to be done in order to choose a visualizer is use one of the options starting with visualize as ... together with the \datavisualization command: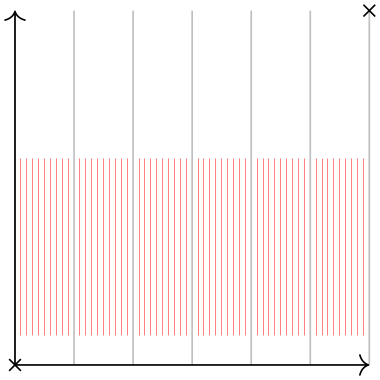 Methods for styling visualizers are discussed in Section 83.2.3.
83.2.2

Using Multiple Visualizers¶
A data visualization may contain multiple data groups and for each data set we might wish to use a different visualizer. In this case, we need some way of telling the data visualization engine to which visualizer should be used with the different data points.
To solve this problem, you can name a visualizer. The visualizer's name can then both be used to configure the visualizer and also to indicate that data points "belong" to the visualizer.
Naming a visualizer is quite simple: The visualize as ... keys actually take a single parameter, which is the name of the visualizer. For instance, the following code creates three visualizers, named sin, cos, and tan:
(When you just say visualize as line without providing a name, the name line is chosen as a default, for visualize as scatter the name scatter is the default and so.)
In order to indicate which data points should be visualized by which of these visualizers, the following key is important:
Since the set key has the path prefix /data point, it can be set like any other attribute of a data key: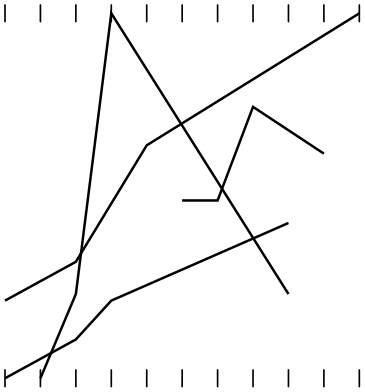 As can be seen, the data points with the same set attribute do not need to be consecutive.
The above method of specifying the visualizer works nicely, but in most cases it would be more natural to keep the set attribute out of the table. This is easy to achieve by using multiple data and using the following key:
When you need to visualize several similar things in a single plot (like ten lines that all get visualized by visualize as line), it is somewhat cumbersome having to write this ten times. In this case you can shorten your code by making use of the .list key handler: When you add it to a key, the "value" passed to the key is parsed as a list of values. The key is then executed once for each of these values: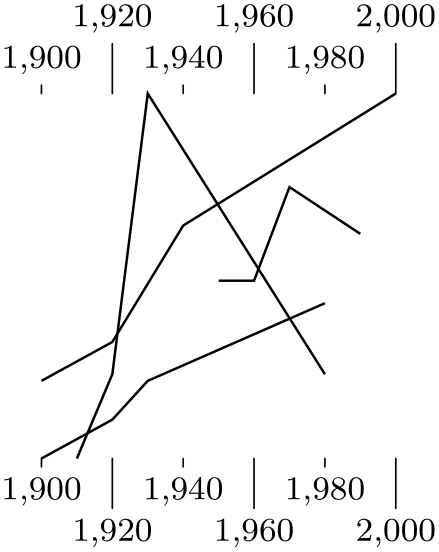 83.2.3

Styling a Visualizer¶
In order to style a visualizer that has been created using for instance visualize as line=⟨visualizer name⟩, you can use the following key:
In addition to the options passed to a visualizer via style, the following also gets executed when a visualizer is used:
83.3

Reference: Basic Visualizers¶
83.3.1

Visualizing Data Points Using Lines¶
83.3.2

Visualizing Data Points Using Marks¶
83.4

Advanced: Creating New Visualizers¶
Creating a new visualizer is a two-stage process that does, unfortunately, require in-depth knowledge of the data visualization backend:
1. First, you need to create a new class using \pgfooclass whose instances react to the signal visualize datapoint signal. This requires detailed knowledge of the data visualization engine, see Section 86.

2. Second, you should provide keys on the TikZ level for creating the necessary objects. These keys invoke the key new visualizer internally.
As an example, let us create a simple visualizer that creates a circle whose radius is dictated by the radius attribute. To keep things simple in this example, this attribute cannot be configured.
First, we need the visualizer class. For this example I have boiled it down to a minimum:
The \dovisualization method must now do the correct visualization.
Finally, we create a visualize as key:
Now, let's see how this works: