The
TikZ

and PGF Packages
Manual for version 3.1.10
TikZ
\(\newcommand{\footnotename}{footnote}\) \(\def \LWRfootnote {1}\) \(\newcommand {\footnote }[2][\LWRfootnote ]{{}^{\mathrm {#1}}}\) \(\newcommand {\footnotemark }[1][\LWRfootnote ]{{}^{\mathrm {#1}}}\) \(\let \LWRorighspace \hspace \) \(\renewcommand {\hspace }{\ifstar \LWRorighspace \LWRorighspace }\) \(\newcommand {\mathnormal }[1]{{#1}}\) \(\newcommand \ensuremath [1]{#1}\) \(\newcommand {\LWRframebox }[2][]{\fbox {#2}} \newcommand {\framebox }[1][]{\LWRframebox } \) \(\newcommand {\setlength }[2]{}\) \(\newcommand {\addtolength }[2]{}\) \(\newcommand {\setcounter }[2]{}\) \(\newcommand {\addtocounter }[2]{}\) \(\newcommand {\arabic }[1]{}\) \(\newcommand {\number }[1]{}\) \(\newcommand {\noalign }[1]{\text {#1}\notag \\}\) \(\newcommand {\cline }[1]{}\) \(\newcommand {\directlua }[1]{\text {(directlua)}}\) \(\newcommand {\luatexdirectlua }[1]{\text {(directlua)}}\) \(\newcommand {\protect }{}\) \(\def \LWRabsorbnumber #1 {}\) \(\def \LWRabsorbquotenumber "#1 {}\) \(\newcommand {\LWRabsorboption }[1][]{}\) \(\newcommand {\LWRabsorbtwooptions }[1][]{\LWRabsorboption }\) \(\def \mathchar {\ifnextchar "\LWRabsorbquotenumber \LWRabsorbnumber }\) \(\def \mathcode #1={\mathchar }\) \(\let \delcode \mathcode \) \(\let \delimiter \mathchar \) \(\def \oe {\unicode {x0153}}\) \(\def \OE {\unicode {x0152}}\) \(\def \ae {\unicode {x00E6}}\) \(\def \AE {\unicode {x00C6}}\) \(\def \aa {\unicode {x00E5}}\) \(\def \AA {\unicode {x00C5}}\) \(\def \o {\unicode {x00F8}}\) \(\def \O {\unicode {x00D8}}\) \(\def \l {\unicode {x0142}}\) \(\def \L {\unicode {x0141}}\) \(\def \ss {\unicode {x00DF}}\) \(\def \SS {\unicode {x1E9E}}\) \(\def \dag {\unicode {x2020}}\) \(\def \ddag {\unicode {x2021}}\) \(\def \P {\unicode {x00B6}}\) \(\def \copyright {\unicode {x00A9}}\) \(\def \pounds {\unicode {x00A3}}\) \(\let \LWRref \ref \) \(\renewcommand {\ref }{\ifstar \LWRref \LWRref }\) \( \newcommand {\multicolumn }[3]{#3}\) \(\require {textcomp}\) \( \newcommand {\meta }[1]{\langle \textit {#1}\rangle } \) \(\newcommand {\intertext }[1]{\text {#1}\notag \\}\) \(\let \Hat \hat \) \(\let \Check \check \) \(\let \Tilde \tilde \) \(\let \Acute \acute \) \(\let \Grave \grave \) \(\let \Dot \dot \) \(\let \Ddot \ddot \) \(\let \Breve \breve \) \(\let \Bar \bar \) \(\let \Vec \vec \)
23

Transparency
23.1

Overview¶
Normally, when you paint something using any of TikZ's commands (this includes stroking, filling, shading, patterns, and images), the newly painted objects totally obscure whatever was painted earlier in the same area.
You can change this behavior by using something that can be thought of as "(semi)transparent colors". Such colors do not completely obscure the background, rather they blend the background with the new color. At first sight, using such semitransparent colors might seem quite straightforward, but the math going on in the background is quite involved and the correct handling of transparency fills some 64 pages in the PDF specification.
In the present section, we start with the different ways of specifying "how transparent" newly drawn objects should be. The simplest way is to just specify a percentage like "60% transparent". A much more general way is to use something that I call a fading, also known as a soft mask or a mask.
At the end of the section we address the problem of creating so-called transparency groups. This problem arises when you paint over a position several times with a semitransparent color. Sometimes you want the effect to accumulate, sometimes you do not.
Note: Transparency (or Opacity, as it may be called as well) is best supported by the pdfTeX driver. The svg driver also has some support. The PostScript file format does not know about transparency. In dvips-generated PostScript files, transparency of graphic objects is defined through special commands that need further processing to become visible in the pdf output. For this, a recent version of Ghostscript, preferably 9.52 or newer, is required and its command line utility ps2pdf must be called with option -dALLOWPSTRANSPARENCY. Older versions may need option -dNOSAFER instead, but some advanced features, such as transparency groups and fadings, may not work at all. Printers and other programs will typically ignore opacity settings in PostScript files.
23.2

Specifying a Uniform Opacity¶
Specifying a stroke and/or fill opacity is quite easy using the following options.
Note that the draw opacity options only sets the opacity of drawn lines. The opacity of fillings is set using the option fill opacity (documented in Section 15.5.3. The option opacity sets both at the same time.
Note the following effect: If you set up a certain opacity for stroking or filling and you stroke or fill the same area twice, the effect accumulates: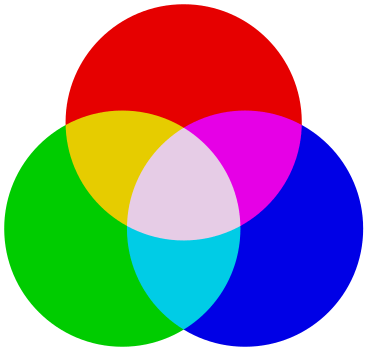 Often, this is exactly what you intend, but not always. You can use transparency groups, see the end of this section, to change this.
23.3

Blend Modes¶
A blend mode specifies how colors mix when you paint on a canvas. Normally, if you paint a red box on a green circle, the red color will completely replace the green circle. However, in some situations you might also wish the red color to somehow "mix" or "blend" with the green circle. We already saw that, using transparency, we can draw something without completely obscuring the background. Blending is a similar operation, only here we mix colors in more complicated ways.
Note: Blending is a rather "advanced" feature of pdf. Most renderers, let alone printers, will have trouble rendering blending correctly.
23.4

Transparency Groups¶
Consider the following cross and sign. They "look wrong" because we can see how they were constructed, while this is not really part of the desired effect.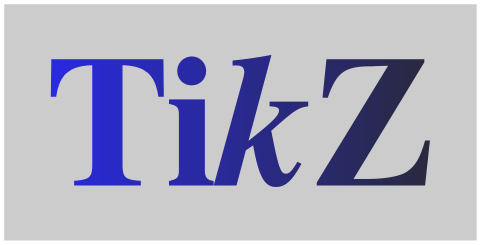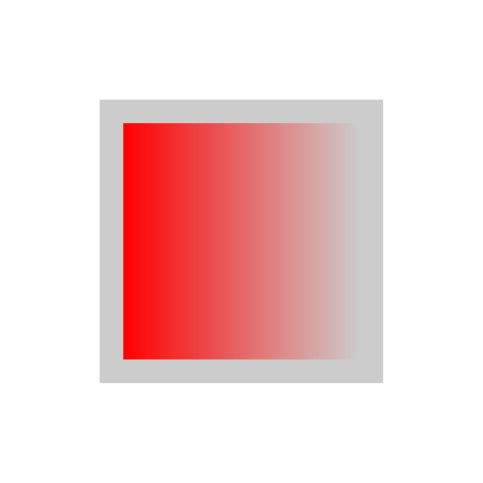 Transparency groups are used to render them correctly: