The
TikZ

and PGF Packages
Manual for version 3.1.10
Libraries
\(\newcommand{\footnotename}{footnote}\) \(\def \LWRfootnote {1}\) \(\newcommand {\footnote }[2][\LWRfootnote ]{{}^{\mathrm {#1}}}\) \(\newcommand {\footnotemark }[1][\LWRfootnote ]{{}^{\mathrm {#1}}}\) \(\let \LWRorighspace \hspace \) \(\renewcommand {\hspace }{\ifstar \LWRorighspace \LWRorighspace }\) \(\newcommand {\mathnormal }[1]{{#1}}\) \(\newcommand \ensuremath [1]{#1}\) \(\newcommand {\LWRframebox }[2][]{\fbox {#2}} \newcommand {\framebox }[1][]{\LWRframebox } \) \(\newcommand {\setlength }[2]{}\) \(\newcommand {\addtolength }[2]{}\) \(\newcommand {\setcounter }[2]{}\) \(\newcommand {\addtocounter }[2]{}\) \(\newcommand {\arabic }[1]{}\) \(\newcommand {\number }[1]{}\) \(\newcommand {\noalign }[1]{\text {#1}\notag \\}\) \(\newcommand {\cline }[1]{}\) \(\newcommand {\directlua }[1]{\text {(directlua)}}\) \(\newcommand {\luatexdirectlua }[1]{\text {(directlua)}}\) \(\newcommand {\protect }{}\) \(\def \LWRabsorbnumber #1 {}\) \(\def \LWRabsorbquotenumber "#1 {}\) \(\newcommand {\LWRabsorboption }[1][]{}\) \(\newcommand {\LWRabsorbtwooptions }[1][]{\LWRabsorboption }\) \(\def \mathchar {\ifnextchar "\LWRabsorbquotenumber \LWRabsorbnumber }\) \(\def \mathcode #1={\mathchar }\) \(\let \delcode \mathcode \) \(\let \delimiter \mathchar \) \(\def \oe {\unicode {x0153}}\) \(\def \OE {\unicode {x0152}}\) \(\def \ae {\unicode {x00E6}}\) \(\def \AE {\unicode {x00C6}}\) \(\def \aa {\unicode {x00E5}}\) \(\def \AA {\unicode {x00C5}}\) \(\def \o {\unicode {x00F8}}\) \(\def \O {\unicode {x00D8}}\) \(\def \l {\unicode {x0142}}\) \(\def \L {\unicode {x0141}}\) \(\def \ss {\unicode {x00DF}}\) \(\def \SS {\unicode {x1E9E}}\) \(\def \dag {\unicode {x2020}}\) \(\def \ddag {\unicode {x2021}}\) \(\def \P {\unicode {x00B6}}\) \(\def \copyright {\unicode {x00A9}}\) \(\def \pounds {\unicode {x00A3}}\) \(\let \LWRref \ref \) \(\renewcommand {\ref }{\ifstar \LWRref \LWRref }\) \( \newcommand {\multicolumn }[3]{#3}\) \(\require {textcomp}\) \( \newcommand {\meta }[1]{\langle \textit {#1}\rangle } \) \(\newcommand {\intertext }[1]{\text {#1}\notag \\}\) \(\let \Hat \hat \) \(\let \Check \check \) \(\let \Tilde \tilde \) \(\let \Acute \acute \) \(\let \Grave \grave \) \(\let \Dot \dot \) \(\let \Ddot \ddot \) \(\let \Breve \breve \) \(\let \Bar \bar \) \(\let \Vec \vec \)
71

Shape Library
71.1

Overview¶
In addition to the standard shapes rectangle, circle and coordinate, there exist a number of additional shapes defined in different shape libraries. Most of these shapes have been contributed by Mark Wibrow. In the present section, these shapes are described. Note that the library shapes is provided for compatibility only. Please include sublibraries like shapes.geometric or shapes.misc directly.
The appearance of shapes is influenced by numerous parameters like minimum height or inner xsep. These general parameters are documented in Section 17.2.3
In all of the examples presented in this section, the following shape example style is used:
71.2

Predefined Shapes¶
The three shapes rectangle, circle, and coordinate are always defined and no library needs to be loaded for them. While the coordinate shape defines only the center anchor, the other two shapes define a standard set of anchors.
71.3

Geometric Shapes¶
71.4

Symbol Shapes¶
71.5

Arrow Shapes¶
71.6

Shapes with Multiple Text Parts¶
71.7

Callout Shapes¶
Callouts consist of a main shape and a pointer (which is part of the shape) which points to something in (or outside) the picture. The position on the border of the main shape to which the pointer is connected is determined automatically. However, the pointer is ignored when calculating the minimum size of the shape, and also when positioning anchors.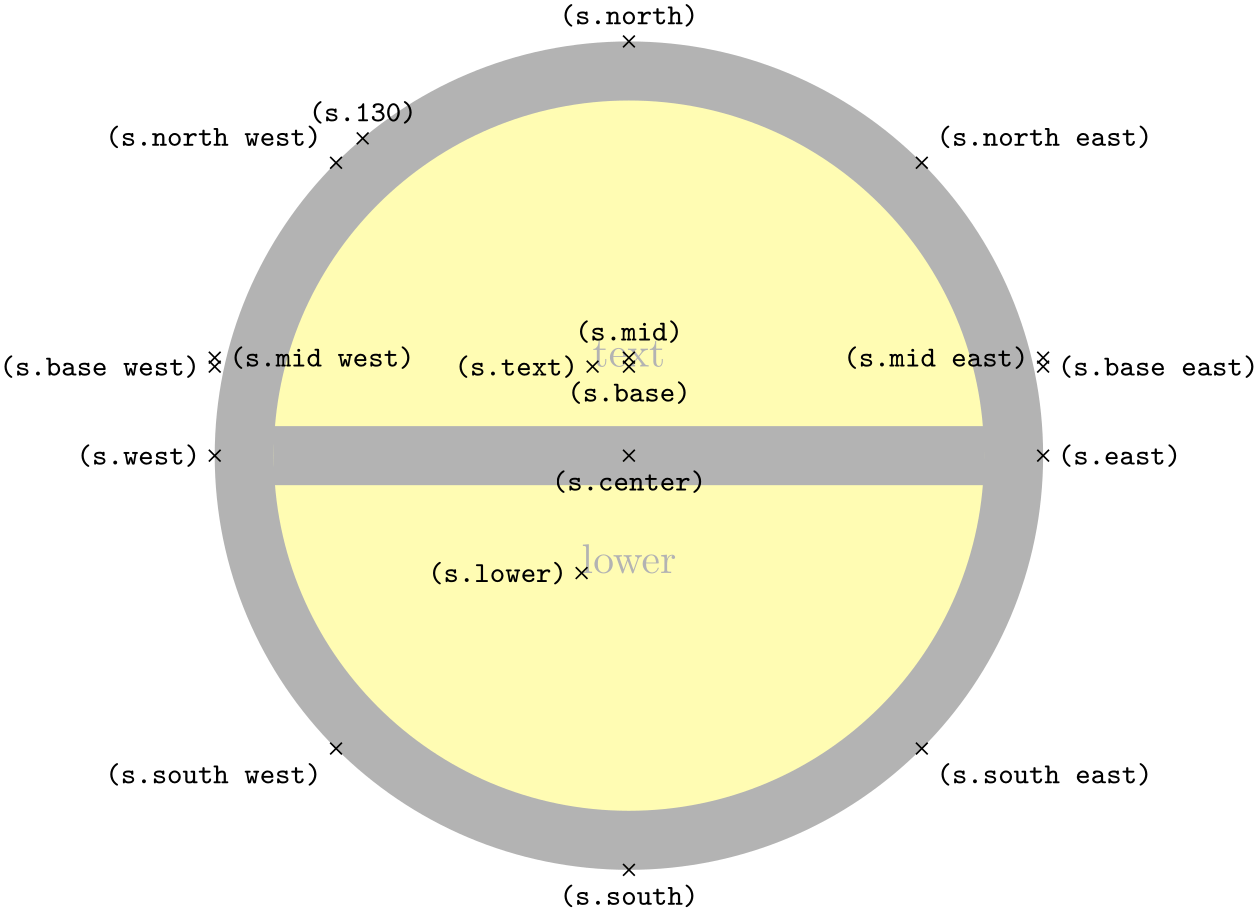 There are two kinds of pointer: the "relative" pointer and the "absolute" pointer. The relative pointer calculates the angle of a specified coordinate relative to the center of the main shape, locates the point on the border to which this angle corresponds, and then adds the coordinate to this point. This seemingly over-complex approach means than you do not have to guess the size of the main shape: the relative pointer will always be outside. The absolute pointer, on the other hand, is much simpler: it points to the specified coordinate absolutely (and can even point to named coordinates in different pictures).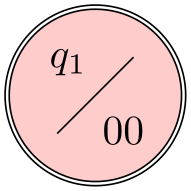 The following keys are common to all callouts. Please remember that the callout relative pointer, and callout absolute pointer keys take a different format for their value depending on whether they are being used in pgf or TikZ.
It is also possible to shorten the pointer by some distance, using the following key:
71.8

Miscellaneous Shapes¶