The
TikZ

and PGF Packages
Manual for version 3.1.10
Libraries
64

Petri-Net Drawing Library
64.1

Places¶
The package defines a style for drawing places of Petri nets.
64.2

Transitions¶
Transitions are also nodes. They should be drawn using the following style:
64.3

Tokens¶
Interestingly, the most complicated aspect of drawing Petri nets in TikZ turns out to be the placement of tokens.
Let us start with a single token. They are also nodes and there is a simple style for typesetting them.
In the above example, it is bothersome that we need an extra command for the token node. Worse, when we have two tokens on a node, it is difficult to place both nodes inside the node without overlap.
The Petri library offers a solution to this problem: The children are tokens style.
The children are tokens option gives you a lot of flexibility, but it is a bit cumbersome to use. For this reason there are some options that help in standard situations. They all use children are tokens internally, so any change to, say, the every token style will affect how these options depict tokens.
64.4

Examples¶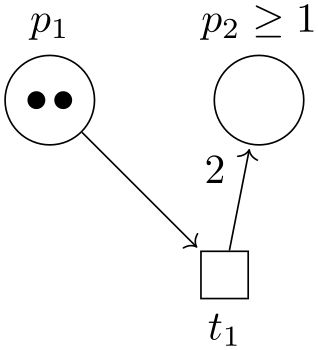 Here is the same net once more, but with these styles changes: