The
TikZ

and PGF Packages
Manual for version 3.1.10
Libraries
57

Lindenmayer System Drawing Library¶
57.1

Overview¶
Lindenmayer systems (also commonly known as "L-systems"), were originally developed by Aristid Lindenmayer as a theory of algae growth patterns and then subsequently used to model branching patterns in plants and produce fractal patterns. Typically, an L-system consists of a set of symbols, each of which is associated with some graphical action (such as "turn left" or "move forward") and a set of rules ("production" or "rewrite" rules). Given a string of symbols, the rewrite rules are applied several times and when the resulting string is processed the action associated with each symbol is executed.
In pgf, L-systems can be used to create simple 2-dimensional fractal patterns…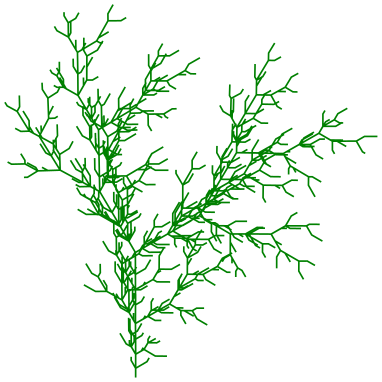 …and "plant like" patterns…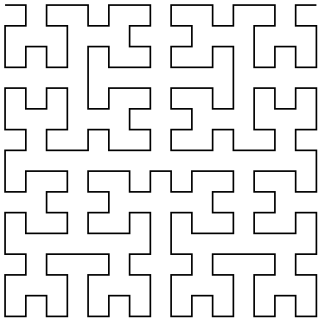 …but it is important to bear in mind that even moderately complex L-systems can exceed the available memory of TeX, and can be very slow. If possible, you are advised to increase the main memory and save stack to their maximum possible values for your particular TeX distribution. However, even by doing this you may find you still run out of memory quite quickly.
For an excellent introduction to L-systems (containing some "really cool" pictures – many of which are sadly not possible in pgf) see The Algorithmic Beauty of Plants by Przemyslaw Prusinkiewicz and Aristid Lindenmayer (which is freely available via the internet).
57.1.1

Declaring L-systems¶
Before an L-system can be used, it must be declared using the following command:
57.2

Using Lindenmayer Systems¶
57.2.1

Using L-Systems in PGF¶
The following command is used to run an L-system in pgf:
57.2.2

Using L-Systems in TikZ¶
In TikZ, an L-system is created using a path operation. However, TikZ is more flexible regarding the positioning of the L-system and also provides keys to create L-systems "on-line".
This library adds some additional keys for specifying L-systems. These keys only work in TikZ and all have the same path, namely, /pgf/lindenmayer system, but the following keys are provided for convenience, so that you do not have to keep repeating this path: